Japanese Ginger Pork (Shogayaki)
You will be surprised how tasty and easy it is to make Japanese ginger pork – Shogayaki. It should take just 15 minutes to make this shogayaki recipe.
Whether at home or at a restaurant , this ginger pork recipe is for sure to satisfy your taste buds. The savory flavor of pork and ginger goes well with rice. Cooking buta no shōgayaki is super easy. Probably one of the reasons why this dish is so popular in Japan is because of the simplicity of the ingredients and the easy process of cooking it.
It's important to cook the pork quickly for this dish. Use high heat all the time, and cook it up within 2 minutes so that meat doesn't get tough.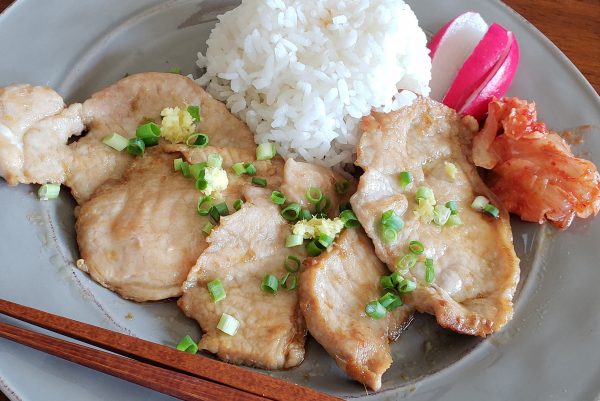 3

tbsp

soy sauce

2

tbsp

mirin
3

tbsp

soy sauce

2

tbsp

mirin
Combine soy sauce, mirin and grated ginger in a bowl.

Marinate the pork for 4-5 minutes, making sure both sides of each slice get coated. (I put 1 slice at a time in the bowl, and flip it once so that both sides get coated. )

Heat some of the vegetable oil or olive oil in a pan. Lay the pork slices out in the pan making sure not to overlap. Sauté for 1 minute to brown, then turn over to cook for half a minute. Repeat the process to cook the remaining pork. Plate and serve with chopped onion and grated ginger on top.
- You can substitute thinly sliced beef or chicken for pork.
- Do not marinate too long. Just a few minutes is enough.