Seared Marlin ー Marlin Tataki (カジキのたたき)
What's Tataki?
In "tataki" method, the meat or fish is seared very briefly over a hot flame or in a pan. In this seared marlin recipe, I used a cooking torch. It's very easy and fun to sear using a torch if you have one. The method originated in Kōchi Prefecture of Japan. Over there, they use skipjack tuna to make this dish and it's called Katsuo no tataki (カツオのたたき)in Japanese. That's one of Kochi's most famous dishes. It is often served with sliced sweet onions, green onions, grated ginger and garlic and seasoned with salt or soy sauce with vinegar and/or citrus (ponzu). Traditionally, katsuo no tataki should be seared directly over fire on dried rice straw until just the outer layer is burned.
In the US, it's almost impossible to get fresh skipjack fish, so I usually use tuna or marlin. I change the sauce depending on what kind of fish I use. I like serving this dish with sweet onions, cilantro, mixed greens, basil or/and avocado.
Healthy and Easy to Make
It's one of the easiest things you can make at home, and it is a perfect appetizer to start a meal. It goes well with beer or sake.
Katsuo no tataki is so popular in Japan that you can find it at almost any izakaya and washoku restaurants across Japan when the fish is in season.
For the sauce, there are a couple of variations. The most common sauce is simple citrus base soy sauce (ponzu) with a combination of cilantro leaves, green onions, sweet onions and grated ginger/garlic/daikon.
Cooking Torch
It's fun to use a cooking torch. I sometimes make crème brûlée. This is the one I have at home.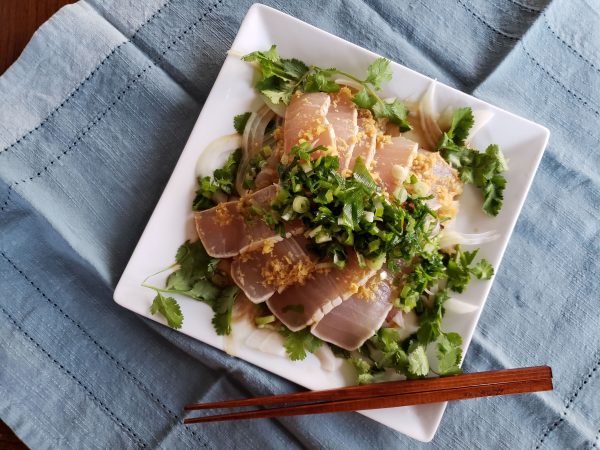 | | |
| --- | --- |
| | |
Grate ginger, mince garlic, slice onion and green onion thinly.

Combine ponzu, ginger, garlic and sesame oil in a small bowl.

Using a cooking torch, burn the surface of the fish. Do not burn too long. It's important to keep inside raw. Then put it back to the fridge and leave it there at least for 30 minutes. (I forgot to take a picture of this step. The picture below is from the past when I used tuna instead of marlin.)

Slice the fish into 1/4 inch pieces. Lay sliced onion on the plate, and put the fish on top of the onion. Pour the sauce on top, garnish with green onion and cilantro.