Spicy Beef Salad with Mint and Cilantro (Thai Beef Salad)
I had lived in Los Angeles for a long time. During that time, I often ate at various Thai restaurants. There are so many wonderful Thai restaurants in Los Angeles and that's something I miss the most about LA since I moved to Hawaii.
One of my favorite dishes is Thai beef salad. My favorite Thai restaurant in Los Angeles was Thai Victory. Their beef salad was amazing. Their Pad thai was so good too. After we moved to Hawaii we couldn't find a Thai restaurant as good as Thai Victory. There are just a few Thai restaurants on this island and we tried pretty much all of them. Some of them are pretty good, but others are just subpar with outrageous prices. Since I live in a small Island I'm willing to pay 20% more than what I'm used to paying in LA, but you could easily pay double here.
Due to the reasons I mentioned above I decided to learn how to cook some of my favorite Thai dishes. I used to think that cooking Thai food is like learning some kind of magic trick. It looks and tastes very mysterious. I wasn't familiar with most of the ingredients of Thai cuisine like fish sauce, palm sugar, dried shrimp or some kind of pickles they use for Pad Thai. But Once you acquire all the necessary ingredients and learn how to use them, it's fairly simple.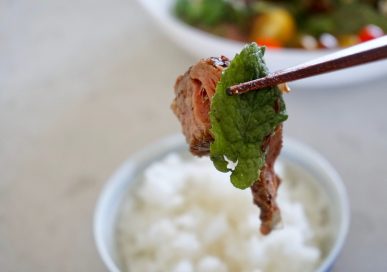 The most difficult part is getting all the ingredients necessary. For this beef salad, you will definitely need fish sauce. They usually use roasted rice powder too. If you can get it in your city, get it and use it. I couldn't find it in my neighborhood, so I make it without it, and it still tastes pretty good.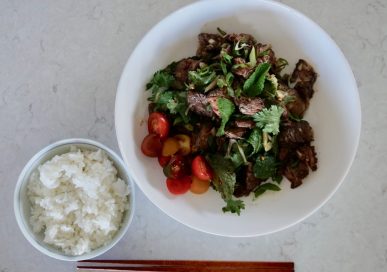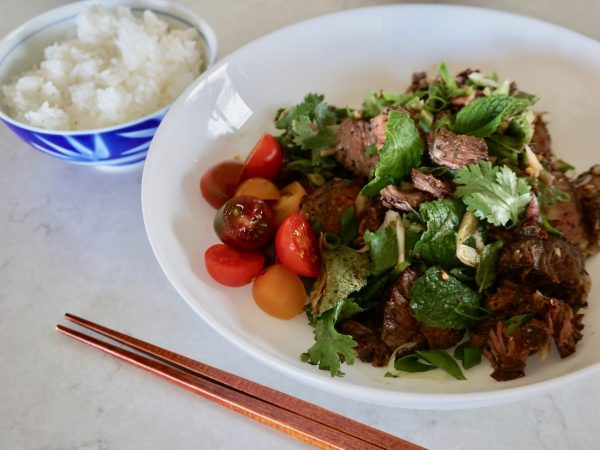 | | |
| --- | --- |
| | |
(Marinate)Marinate the meat in the ground black pepper and soy sauce for about 2 hour. Over night will be better.

(Chop) Peel the shallots and finely slice them, dice the green onions, and pluck a handful of mint and cilantro leaves.

(Prepare dressing)In a medium size bowl, fish sauce, sugar, chili flakes and lime juice and mix all well. (you will put everything in this bowl at the end, so use a medium size bowl)

(Grill)Grill the beef on high heat for about 2 minutes on each side (depending on how thick it is), then lower the heat and cook it depending on your preference. Once the beef is done, set it on a plate or cutting board to rest for about 10 minutes. Slice the beef against the grain into thin bite sized strips.

(Toss) Put the sliced beef and shallots in the bowl and mix them well. Then add green onions, cilantro and mint leaves in the bowl. Toss everything together. Taste it and add more lime juice or fish sauce as needed.
Shallot is one of the most important ingredients for this dish. Do not omit it. Do not substitute onion or/and garlic. Use shallot.
Use good quality steak meat. That will make a difference.