Poke Bowl Recipe – Spicy Ahi Tuna Poke Bowl
Looking for a good poke bowl recipe? Have you ever wondered how to make a poke bowl?
This simple and awesome Hawaiian dish, poke has been around for many years in Hawaii. It's basically Hawaii's favorite food and a supermarket staple.
A long long time ago, fishermen started seasoning raw fish from their catch to eat as a snack. According to Michelin guide, "Poke is rooted in the days when native Hawaiian fishermen would slice up smaller reef fish and serve them raw, seasoned with whatever was on hand—usually condiments such as sea salt, candlenuts, seaweed and limu, a kind of brown algae."
Poke seasonings are strongly influenced by Japanese and other Asian cuisines. These include soy sauce, green onions, and sesame oil, furikake (Japanese seasoning for rice. Mix of dried fish, sesame seeds, and dried seaweed), limu (skinny seaweed, not like wakame), sea salt, fish eggs, wasabi, Sriracha, and Maui onions.
When you walk into any supermarket in the Aloha State, you'll find an entire counter dedicated to poke. You can find so many different kinds. They use mainly ahi, but you'll see spicy garlic salmon, tofu with soy sauce, sesame and green onion, kimchee tako (octopus), imitation crabs with spicy sauce and more.
In Hawaii, poke is eaten either on its own or over a bowl of rice.
It's so much fun to try out different kinds of poke from different places, but poke is incredibly easy to make at home as long as you have access to fresh quality fish. Make sure your fish is a high-quality sashimi grade.
I'm planning to share many different kinds of poke recipes in the future. It was so delicious, our dog, Kai loved it too.
Here is how to make a poke bowl. This time, I made a spicy tuna ahi poke bowl.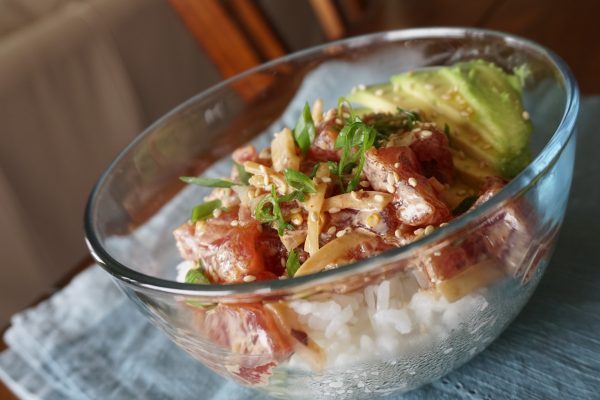 1/2

avocado

optional

sesame seeds

chopped green onion
1/2

avocado

optional

sesame seeds

chopped green onion
Cook the rice according to instructions or in a rice cooker. (You can do this step later. It depends on how long you're going to marinate poke.)

Slice onion thinly then cut into 1/2 inch length. Cut green onions into thin slices.

Make spicy sauce by mixing mayonnaise and sriracha sauce and set aside.

Cut the ahi tuna into bite size pieces.

In a large bowl, put the ahi tuna, soy sauce, sesame oil, salt, chili flakes, onions and green onions. Stir gently and combine.

Let it sit in the fridge for about 2 hours. (If you want to eat it right away, skip this step. )

Add the spicy sauce to the bowl and mix well. (You can add spicy sauce when you add all other seasonings too. )

Right before serving, slice the avocado.

Arrange your poke bowl with a scoop of rice, poke and avocado. Sprinkle sesame seeds and green onions on top.
Get the best quality, sashimi grade tuna.
I like it marinated, but some people can't tell the difference or prefer not marinated. If you're too hungry and can't wait, go ahead and just eat it without marinating.
You can add all seasonings including spicy sauce (mayonnaise and sriracha) all at once and mix well before marinating. (I added spicy sauce after marinating)
Traditional poke has limu and kukui nuts in it. I couldn't find them at the grocery stores near me. If you can find them, put them.
Instead of regular white rice, you can use brown rice or sushi rice. I like sushi rice the best with poke.