Shabu Shabu Herb Salad (冷しゃぶの薬味サラダ)
When it's hot outside, I don't feel like cooking using heat much. I just want to eat something simple and nutritious. This dish is perfect for that.
Shabu Shabu is a Japanese hot pot dish with thinly sliced beef you immerse in a pot filled with various types of vegetables and noodles. It is usually cooked at the dining table using a portable stove and eaten as it's being cooked.
On a hot day, shabu shabu will make your room hot and steamy. To make this salad I cook thinly sliced meat and cool it down before using it. If you prefer, you may use sliced pork too, but make sure to use thinly sliced meat. If you go to Japanese or Korean grocery stores, you will be able to find meat prepared for shabu shabu and it will say on the package "For shabu shabu (しゃぶしゃぶ用).
In Japan, people use a lot of lettuce for shabu shabu salad, but my version doesn't use any lettuce. Instead, I use only herbs. This time, I used green onions, basil, cilantro and also grated daikon radish and grated ginger. You can also use other types of fresh herbs, like mint or dills.
Japanese people eat a lot of grated radishes. During winter time daikon radish tends to become sweeter especially the part close to the leaves. The bottom part of the radish tends to be bitter. I like a bit of bitterness, but sometimes it's so bitter that I'm not able to use it. When you use grated daikon radish for any dish, grate a little bit first, and taste it. If it's sweet, you can use as much as you want and if it's bitter it is not a good idea to use it at all. Adding lemon juice could weaken the bitterness. It's all up to you.
As a dressing, I used ponzu which you can purchase from Asian grocery stores, but some American grocery stores carry ponzu nowadays.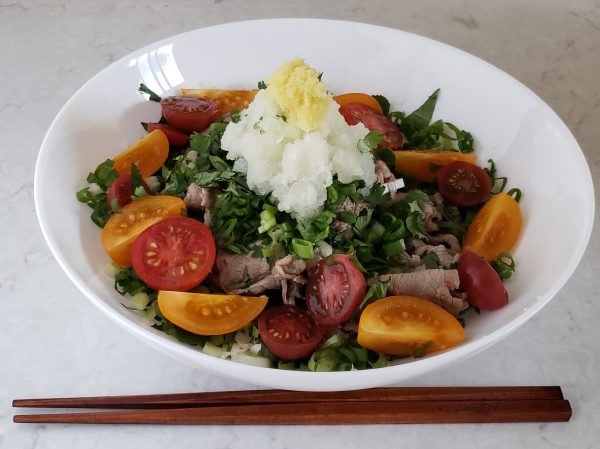 | | |
| --- | --- |
| | |
Wipe the kelp with a wet paper towel. Put the kombu kelp and water in a small pot.

Bring the water to boil. Right before it starts boiling, remove the kombu kelp. Cook thin sliced meat one at at time for a few seconds just till it becomes brown. Remove it from the water and leave it on a plate to cool it. Repeat it to cook all the meat.

When the meat cools down, dip it in the ponzu so that all the meat gets a bit of ponzu on the surface. Then put it on the serving plate.

Over the meat, put green onion, cilantro, basil, daikon radish, ginger, mini tomatoes. Pour ponzu and lemon juice on top.