Gyudon (Beef Bowl) -牛丼-
Even if you don't know gyudon, you've probably heard of sukiyaki. Gyūdon is considered to have come from Sukiyaki-rice bowl, where thin slices of beef are cooked with vegetables in a pot, and at some point was served over rice in a bowl. In Japan, there are many gyudon speciality restaurants. If you live in the US, you might have seen a "Yoshinoya" sign somewhere. Yoshinoya is one of the gyudon specialty restaurants chain. I liked Yoshinoya in Japan, and when I moved to the US, of course, I went to one of their restaurants in Los Angeles. To be honest, it was very different from Japanese Yoshinoya, and I was a bit disappointed (that was about 18 years ago and I never went back). Yoshinoya restaurants in Japan are so good, and one bowl is still less than $5. When you're young and broke, you will appreciate that.
So I started making gyudon at home, because I was missing real Japanese Yoshinoya beef bowl. It's very easy to make. If you like sukiyaki, you will love it!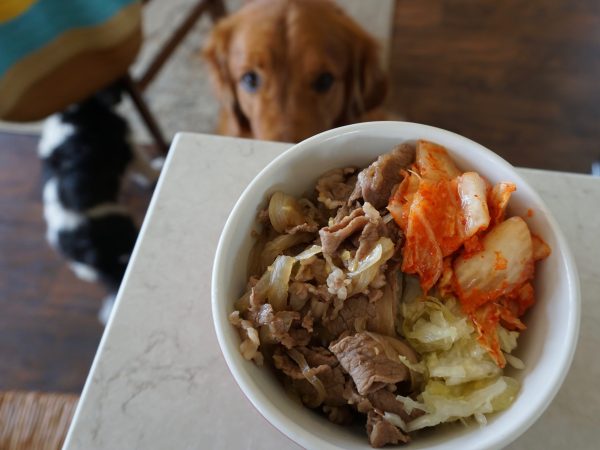 | | |
| --- | --- |
| | |
Cut the onion into slices, about 5 mm thinkness (1/4 inch). Cut thinly sliced beef into bite size pieces.

Put dashi and sliced onion in a medium size pot, and cook until tender.

Add sake, sugar, salt and soy sauce and beef. Cook in medium heat for about 10 minutes with a lid on.

Add grated ginger and stir. Cook 1 more minute. Taste it and if you like it sweeter, add sugar. If you like it saltier add salt.

Serve the meat and a bit of soup(liquid) over steamed rice. Some people like a lot of liquid, and others don't like liquid with it. It's up to you. If you like, serve it with kimchee, sauerkraut or red ginger. In this picture, I served it with kimchee and sauerkraut because I am a huge believer of fermented food 🙂
Thinly sliced beef can be difficult to find at your local store. Thin sliced meat seems to be popular in Asian countries. I usually go to a Japanese speciality store and get "Komagire cut(こまぎれ)" or "for Sukiyaki(すき焼き用)". In case you can't find any thin sliced meat, just try to julienne good quality steak meat.
Try to make your own dashi. It's so different from instant powder dashi. Homemade dashi is easy to make and also very healthy. Instant dashi usually contains MSG.