Coconut Oil Granola Recipe
This granola recipe is so good that I bake it every other week. I use it for acai bowl topping and sometimes eat it with yogurt, or by itself as a snack. You can use any kind of oil, but for this recipe, I prefer to use coconut oil.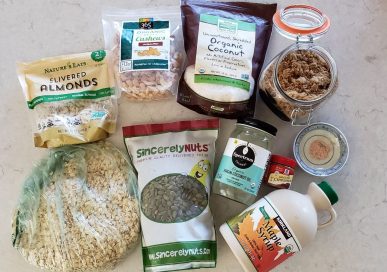 When you mix everything, as it's mentioned on the instructions, mix liquid and powdery ingredients like sugar, salt and cinnamon powder in a small bowl separate from other ingredients like nuts and oats. I used to put all the ingredients including nuts and liquid in a big bowl and mix them. Sometimes it works, but like salt, brown sugar tends to form hard lumps and it doesn't get mixed evenly. By taking this one little step, it always turns out perfect.
I've been making granola at home for so many years now that  I don't even remember the last time I bought one from a store. Since it's so easy to make, I routinely bake it.
I love this granola so much that I often give it to my friends as a small gift. When you put it in a small bag and tie the top with a ribbon, it makes a great small gift.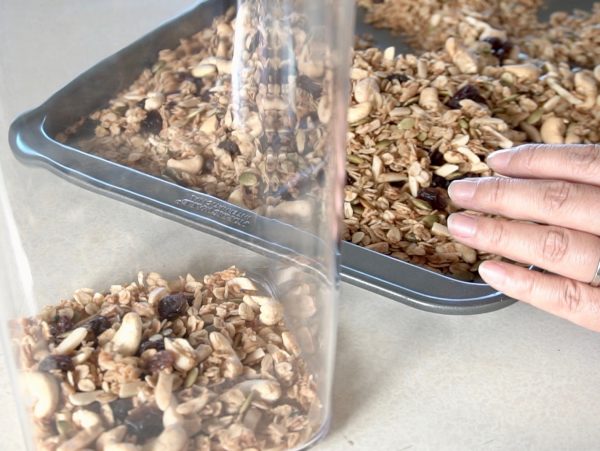 | | |
| --- | --- |
| | |
Preheat oven to 250 degrees F.

In a big bowl, put rolled oats, almonds, cashews, pumpkin seads and shredded unsweetened coconut. Combine.

In a small bowl, put melted coconut oil, sugar, maple syrup, cinnamon powder and sea salt, and mix them well.

Pour the mixture of coconut oil into the large bowl, and mix all well.

Pour it onto 2 regular sized sheet pans(18inch x 26inch). Cook for 1 hour and 20 minutes, stirring every 20 minutes.

Remove from oven and cool it. Add dried cranberries and mix until evenly distributed.
You can use any dried fruits instead of cranberries.
You can use any oil instead of coconut oil, but do not omit it. You need oil to make granola.
Do not bake at higher temperature.