Blue Marlin (Kajiki) Poke Bowl
This is just a variation of my other poke bowl recipe.
I usually use regular red colored tuna (yellowfin tuna) to make poke. But this time, blue marlin (kajiki maguro tuna) looked very fresh at Whole Foods, and it was also "Sashimi grade", so I just gave it a try. It turned out super delicious. I didn't even marinate it for a long time. Probably just for 30 minutes. Another difference from my previous recipe was that I used mint leaves instead of green onions just because I didn't have green onions, but it ended up going well with this fish. Anyways… here is the recipe! When you make poke bowl, please please make sure to get the freshest "sashimi grade" fish. If you're not sure, ask someone at the store. Enjoy!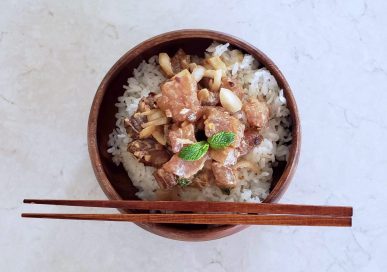 A good thing about blue marlin is that it's a lot cheaper than yellow fin tuna. At Whole Foods in Hawaii, it's about half price of yellow fin tuna. Taste wise, of course it depends on your taste bud, but I think blue marlin might be better. Because yellow fin tuna is the one people know, they tend to choose that. In Japan, we eat a lot of different kinds of fish raw. As long as it says sashimi grade, do not hesitate to try new fish. It might become your new favorite fish.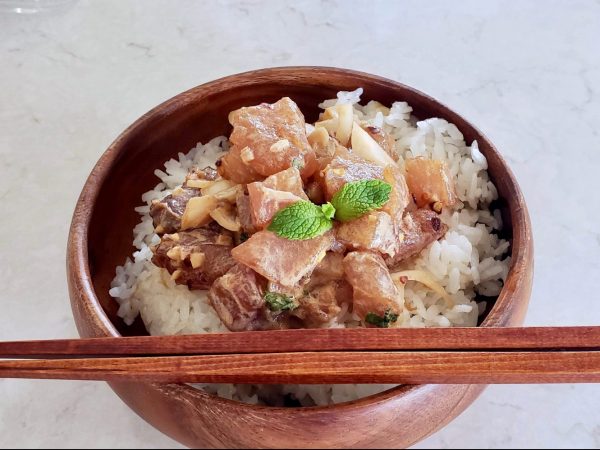 | | |
| --- | --- |
| | |
(Prepare Rice)Cook the rice according to instructions or in a rice cooker.

(Cut)Slice onion thinly then cut into 1/2 inch length. Julienne mint leaves. Mince garlic. Cut the blue marlin into bite size pieces.

(Combine) In a large bowl, put the all ingredients except cooked rice(Obviously) Stir gently and combine. Let it sit in the fridge for about 2 hours if you have time. If there is no time, you can just eat it right away.

Serve the poke over rice. Yummy!