Bacon & Kimchi Fried Rice with Onsen Tamago (ベーコンキムチ炒飯 温泉卵のせ の作り方) 
(Please see English recipe below this article in Japanese.)
キムチとベーコンさえあればあっという間にできてしまうベーコンキムチ炒飯。
温泉卵をのせるとさらに美味しいです。
<材料>
温泉卵
水 1.5リットル
冷蔵庫で冷えた卵 2個(鍋に入れる直前に冷蔵庫から取り出す)
ベーコンキムチ炒飯
ベーコン 150グラム
キムチ 160グラム
卵 1個
温かいご飯 お茶碗大盛り2杯分
塩 少々
粉唐辛子 お好きな辛さで (動画では小さじ1)
ごま油 小さじ2
ネギ 適量
醤油 小さじ2
温泉卵の作り方
85度のお湯を作ります。温度計がある場合は、蓋つきの鍋にを1.5リットルの水を入れて、85度になるようにあたためます。 温度計がない場合は蓋つきの鍋に1.2リットルの水を沸騰させ、なべを火から下ろして240mLの水を入れます。これでだいたい85度になりますが、水の温度によって誤差があるので、私は温度計を使う方法をとっています。
1の鍋に冷蔵庫から出したばかりの卵を入れて蓋をします。25分放置します。(25分で黄身はやんわり固まった感じで、白身はとろっとしています。黄身が生に近い状態にしたい場合は18分ほどでできあがりです。)
25分たったら冷たい水に入れて10分ほど冷やします。これでできあがりです。冷蔵庫で2日は保存できます。
ベーコンキムチ炒飯の作り方
材料を切ります(詳しくは動画参照願います)
フライパンにベーコンを入れてカリッとするまで炒めます。
キムチを2の鍋に投入して水っぽさがなくなるまで炒めます。
鍋の表面が少し見えるように材料を寄せてそこへ溶いた卵を流し入れます。
いり卵を作る容量で軽く混ぜ、半分くらい卵に火が通ったらご飯を入れて炒めます。
塩、粉唐辛子を入れてさらに炒めます。
鍋の表面が見えるように材料を寄せて、鍋肌にごま油を入れます。そこへネギを入れてさらに炒めます。
醤油を入れて軽く混ぜたらできあがり。
温泉卵、ネギを乗せてめしあがれ〜。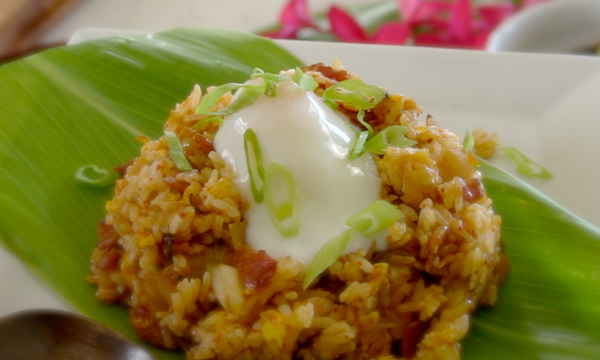 Onsen Tamago - Japanese soft boil eggs
Kimchi and Bacon Fried Rice
Onsen Tamago - Japanese soft boil eggs

Kimchi and Bacon Fried Rice
Pour water in a pot with a lid, and warm up the water till it becomes 85°C/185°F. Please see the video.

When it becomes 85°C/185°F, remove the pot from the heat. Sink 2 cold eggs right out of the fridge in the water. Put the lid on and leave it for 25 minutes. (In 25 minutes, the yolk becomes soft, but not too runny. If you like a runny yolk, it will be ready in about 18 minutes) .

After 25 minutes, remove the eggs from the pot and put them in cold water. Leave them for 10 minutes.
Chop up all the ingredients. Please see the video.

In a non-stick pan, put bacon and fry until it becomes crispy.

Add kimchi in the pan and fry more until the water reduces.

Add 1 egg beaten and cook in the way you make scrambled eggs. When the eggs are half cooked, add rice and keep cooking.

Add salt and chili powder according to your taste. In the video, I used a pinch of salt and 1 tsp of Chinese chili powder. I've used Paprika, Korean chili powder, Ethiopian chili powder like mitmita or berbere in the past, and they all work and make some differences. Pick your favorite chili powder and make it as spicy as you want.

Add sesame oil and put green onions and cook. Then finally add soy sauce.

Put the onsen tamago and green onion on top, and enjoy!