コーヒーゼリー Coffee Jelly Recipe
(Please see English recipe below this article in Japanese.)
コーヒーゼリーって実は日本の食べ物なんですね〜。
私はコ-ヒーゼリーが大好きなのですが、アメリカに移住してきて「あれ、コーヒーゼリーがどこにも売ってない」ということに気が付いてびっくりしました。
あんなにおいしいものがなぜないの〜?
ということで自分で作り始めたコーヒーゼリー。
自家製だと自分の好きなコーヒー豆を使えるし、砂糖なしにして苦味を楽しんだり、トッピングを変えたりいろいろできちゃいます。
こちらで手に入りやすいタイプのゼラチンは顆粒のもので、ふやかさなくても良いものですので、そのまま熱いコーヒーに入れて溶かします。
動画の中で、私はコーヒー豆大さじ3とお湯360mlで自分で淹れましたがもちろんインスタントコーヒーでも大丈夫です。砂糖の分量もお好みで。
コーヒーゼリーのレシピ
<材料>
(コーヒーゼリー)
顆粒ゼラチン 1袋
コーヒー 360ml (コーヒー豆 大さじ3、水 360ml)
砂糖 お好きな分量
(ホイップクリーム)
生クリーム 120ml
砂糖 15g
バニラエッセンス 小さじ1/2(動画でバニラエッセンスを入れるシーンを撮り忘れてしまいました)
(その他)
<作り方>
1. お好きな方法でコーヒーを作る。(私はコーヒー豆大さじ3とお湯360mlで自分で淹れましたがもちろんインスタントコーヒーでも大丈夫です。)
2. 顆粒ゼラチンを熱いコーヒーに溶かす。
3. お好きなグラスに2の液体を流し込み、泡を取り除く。
3. 冷蔵庫で3時間以上冷やす(ゼラチンのパッケージに書いてある方法に従ってください)
4. 生クリームと砂糖とバニラエッセンスをボウルに入れ、あわ立ててホイップクリームを作る。(特に夏は氷でボウルを冷やしながら泡立てると失敗しないように思います。)
5. バニラアイスクリームとホイップクリームをコーヒーゼリーの上にのせ、その上からチョコレートを削ったものを乗せてできあがり。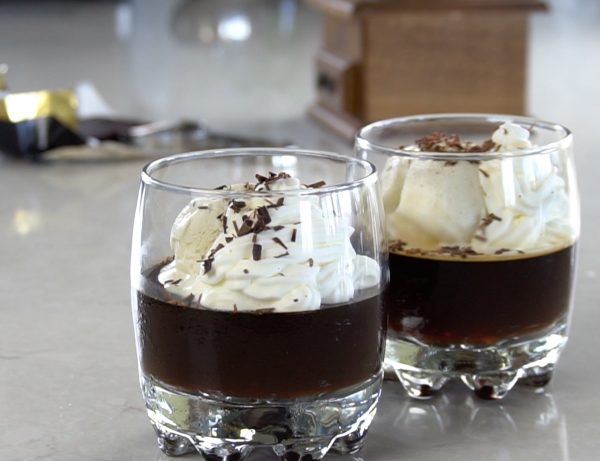 1

envelope

gelatine

7g

1 1/2

cups

coffee

360ml (I made coffee using 3 tbsp of coffee beans and 360ml of boiling water)

sugar

make it your favorite sweetness
dark chocolate bar

vanilla ice cream
1

envelope

gelatine

7g

1 1/2

cups

coffee

360ml (I made coffee using 3 tbsp of coffee beans and 360ml of boiling water)

sugar

make it your favorite sweetness

dark chocolate bar

vanilla ice cream
(Make jelly) Make coffee and add sugar and gelatine. Mix well.

Pour the mixture into your favorite glasses. Remove bubbles from the mixture. Refrigerate for at least 3 hours.

(Make whipped cream) Pour heavy cream, sugar and vanilla extract in a bowl. Whisk just until the cream reaches stiff peaks. (I used ice cubes to keep the bowl cold.)

Put whipped cream, vanilla ice cream and shaved chocolate on top. Enjoy!